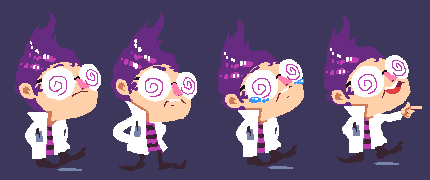 Flurpies
Professor Flurp has claimed to have created the biggest thing since sliced bread..
FLURPIES!
She has enlisted you to help her with her research. Take care of whichever flurpie you hatch and see if you can survive every evolution!

Each flurpie has different personalities, tastes, and skills! Eating your flurpie's favorite foods and taking down creatures will help your flurpie to evolve!
---
WASD/Arrow Keys - Move
Spacebar - Jump/Interact
Feed your flurpie to fill hunger and happiness, your flurpie could have any personality so try different foods! Go outside to find the food your Flurpie loves.
Made in 72 hours for Ludum Dare 38 (a small world)

Comments
Log in with itch.io to leave a comment.
this is so cute! i really enjoyed playing it!
That was the first game of you we recommended on our blog, and oh, what a wonderful little thingy it was! <3 It's been pretty ambitious of you to combine the genres of platformers and virtual pet simulators into one game, but you did very well! The pixel art is also absolutely gorgeous, just like always! :) That's why I felt the need to include it in one of our compilation articles about the Ludum Dare 38 as well as in a related showcase video, along with two other neat entries. <3 Thanks for your work, looking forward to your future games!

Best wishes,
Sebastian