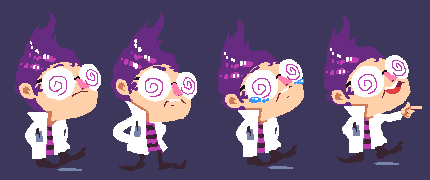 Flurpies
Professor Flurp has claimed to have created the biggest thing since sliced bread..
FLURPIES!
She has enlisted you to help her with her research. Take care of whichever flurpie you hatch and see if you can survive every evolution!

Each flurpie has different personalities, tastes, and skills! Eating your flurpie's favorite foods and taking down creatures will help your flurpie to evolve!
---
WASD/Arrow Keys - Move
Spacebar - Jump/Interact
Feed your flurpie to fill hunger and happiness, your flurpie could have any personality so try different foods! Go outside to find the food your Flurpie loves.
Made in 72 hours for Ludum Dare 38 (a small world)